AHMEDABAD: When the hubbub of human life was silenced by lockdown, Gujarat geologists could measure the earth's seismic voice dropping into a calm hum — the planet was enjoying its very own "quiet moment".
The geologists from the Institute of Seismic Research in Gandhinagar measured the earth's whir between March 25 and May 7, 2020, when Covid had shut down everyday life. The geologists tracked the sound with seismometers planted deep inside the earth at 12 locations.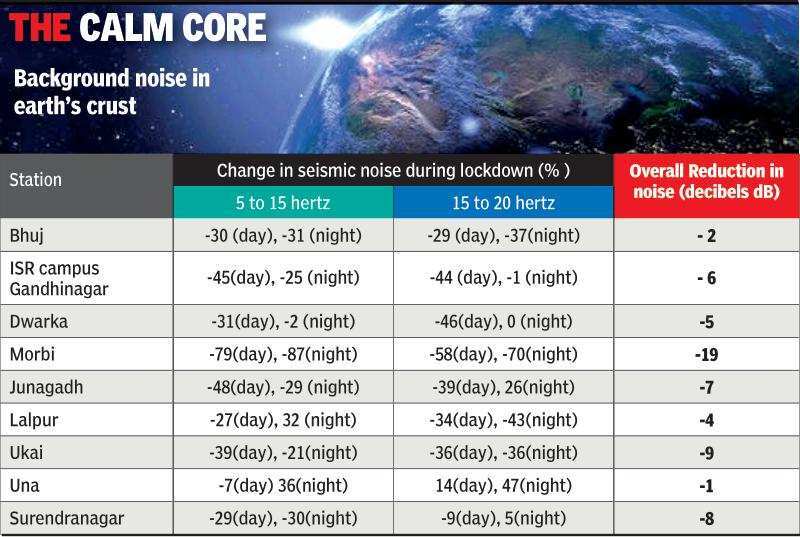 The ISR noted 79% to 87% drop in seismic noise levels around ceramic factories of Morbi and a fall of 27% to 79% in urban areas. There was a 29% to 35% drop in noise levels in the populated zones of rural areas and a 7% to 18% slide in remotely located seismic stations in the state.
The ISR and the National Geophysical Research Institute, Hyderabad, recorded an overall lowering of 1 to 19 decibels in noise levels across the state. The reduction was recorded mainly in Kutch, Saurashtra, South Gujarat, and the mainland Gujarat region.
This measurements were made possible by the drastic curtailment of the sources of human bustle such as factories, transport, machinery, mining explosions, and construction.
These factors are usually responsible for high-frequency vibrations that contribute to a background buzz or noise inside earth. "We have considered the median human activity related background noise values in the frequency range of 5-15 hertz to depict the change in the anthropogenic seismic noise levels during the lockdown period across 12 stations in Gujarat," said the research paper. 'Anthropogenic' means originating in human activity.
The paper was published in the April edition of 'Nature' and has been authored by ISR's Ketan Roy, Jyoti Sharma, and Santosh Kumar. M Ravi Kumar was the co-author from the NGRI.