HYDERABAD: Covid-19 is emerging as perhaps the first pandemic in human history for the treatment of which over 200 drug compounds have been tested and about 70 therapeutic agents subjected to clinical trials so far.
A research study involving scientists, including those from the National Institute of Pharmaceutical Education and Research (NIPER), Hyderabad, found that as many as 265 clinical trials were conducted to find a suitable treatment for the virus and of them, 115 have been shown to have direct effect on reducing the viral load and managing the disease.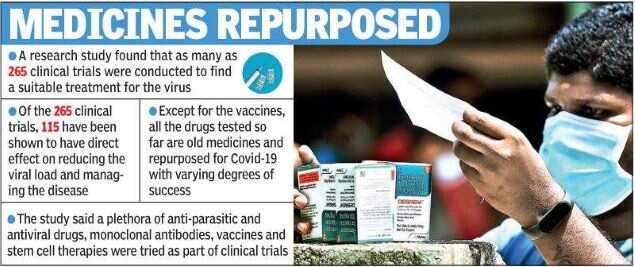 Interestingly, except for the vaccines, all the drugs tested so far are old medicines and repurposed for Covid-19 with varying degrees of success.
"The acute progression of Covid-19 and high infection rate pose an enormous challenge for its therapeutic management and critical care. The viral structure, genome (complete genetic information) and proteome (complete protein information) have been deciphered which yielded cues for targeting already available therapeutic entities. More than 200 compounds have been screened and 69 therapeutic agents are undergoing clinical trials across the world," the study said.
The study said a plethora of anti-parasitic and anti-viral drugs, monoclonal antibodies, vaccines and stem cell therapies were tried as part of well-designed clinical trials. Apart from vitamin C, vitamin D supplementation has been found to be useful in reducing the risk. It was found that vitamin D lowers viral replication rates and controls the pro-inflammatory cytokines production responsible for lung injuries. Vitamin D supplementation can also manage the risk of influenza.
The study was published in the recent issue of scientific journal Biomedicine & Pharmacotherapy. Apart from NIPER, Hyderabad, researchers from Dr BR Ambedkar Centre for Biomedical Research, University of Delhi, and the Chandigarh College of Pharmacy, Mohali, were also part of the study. The team comprised Mukesh Kumar, Jitender Madan, Rupinder Kaur Sodhi, Shashi Bala Singh and Anju Katyal. "Covid-19 has forced the human civilizations to think, innovate, develop and prioritize all possible strategies to combat the infection. The tested drug combinations have demonstrated mixed non-uniform results in the affected patients. Therefore, a need to extend the repertoire of drugs or adjunct therapeutics to deal with Covid-19 is warranted," the researchers suggested.
According to the study, antimalarial drugs like chloroquine diphosphate and hydroxychloroquine, anti-viral drugs like Ritonavir and Lopinavir, Interferon (recombinant), Favipiravir, Baloxavir, Darunavir, Ganovo, ASC09/Ritonavir, Arbidol hydrochloride, Carrimycin and Triazavirin, corticosteroids like Methylprednisolone, stem cells involving mesenchymal stem cells from umbilical cord, blood plasma from umbilical cord, blood mononuclear cells and immunomodulators like recuperative plasma, and monoclonal antibodies like Tocilizumab, Adalimumab, Ixekizumab and Camrelizumab were tested. Doctors also tested drugs like Remdesivir and Heparin.