ALWAR/JAIPUR: In the late 90s, they mastered the criminal craft of 'tatlu bazzi,' an art of duping people by selling fake gold bricks presented as antiqued treasure discovered in excavations. Two decades later, the gangs of Mewat are back and this time they have struck gold using 'sextortion'.
An approximately 150km area of
Alwar
and Bharatpur districts is now fast emerging as the new Jamtara of Mewat, where every day gangs extort crores of rupees from wealthy middle aged-men, with porn clips to honeytrap them.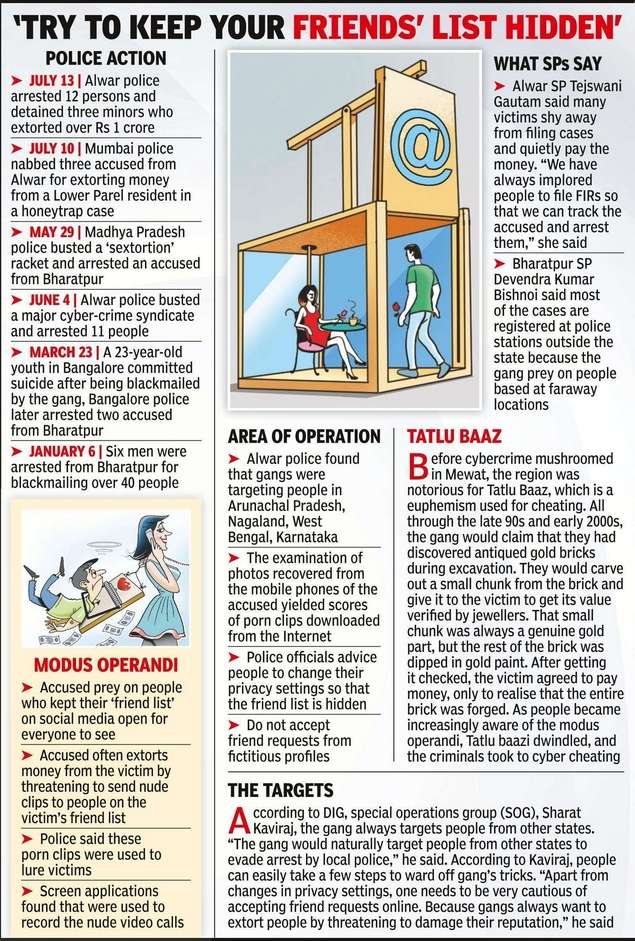 According to Alwar and Bharatpur police, the modus operandi across all criminal cases remains the same. The gang poses as beautiful women on social media websites to befriend potential targets. Flirting soon follows. Using online Hindi-to-English translation tools, the chatting continues till numbers are shared on WhatsApp.
The accused pretending as a woman would play a porn clip and insist the victim indulge in similar sexual activities on the video call. After recording the video chat of the sexual activity, the video is sent to the victim to demand exuberant money.
If the victim refuses to give money, the accused threatens to share the video chat with the victim's friends on social media, or worse, upload it on porn websites. According to Alwar SP Tejswani Gautam, many victims shy away from filing cases and quietly pay the money. "We have always implored people to file FIRs so that we can track the accused and arrest them," she said. Alwar police had recently made a special task force called Cyclone to hunt for the gangs. In the past three months alone, the district police have busted over 36 gangs and arrested over 600 accused of running extortion rackets.
"We also regularly coordinate with police units from other states. In fact, we have also begun tracking these accused through their mobile phones and also by decoy operations," Gautam said.
Bharatpur SP Devendra Kumar Bishnoi said most of the cases are registered at police stations outside the state because the gang prey on people based at faraway locations.
A top official of Rajasthan police said a special cyber police station would soon be set up in Bharatpur district to keep a close watch on cybercriminals, especially 'sextortion' cases.
The area under which the gang operates is located deep in the Mewat region that spreads across Haryana. But the main areas include Bhiwadi, Tijara, Kishangarh Bas, Ramgarh, Laxmangarh in Alwar and Nagar, Pahadi and Govingarh in Bharatpur. The gang also employed members from nearby Nuh and the Punhana area of neighbouring Haryana.